Finally, my guest is quite an interesting and, perhaps, a very expected novelty, at least for me. Most of all I was attracted to her by her versatility – you want a scorker, you want an ordinary one-jar. But in reality, everything turned out not to be as rosy as I expected. Rather, it's better to say that only one thing upset me – the equipment. But more on that later. 
View more vape devices: https://www.ave40.com/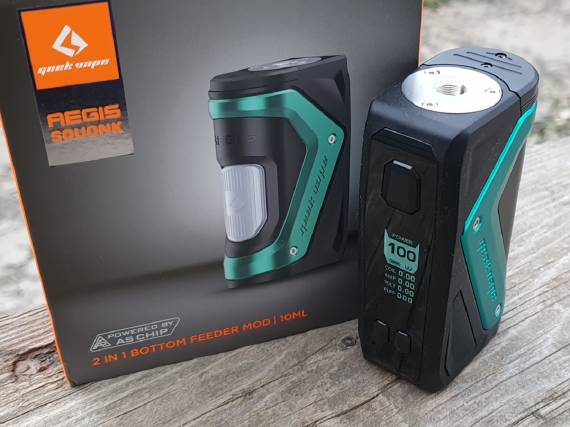 Dimensions: 87 x 53 x 31mm
Weight: 130g Case
material: Zinc alloy + stainless steel + silicone + plastic
Power: 1 x 18650
Chipset: AS-100 Bottle
capacity: 10ml
Output power: 5 – 100W
Voltage range: 0.1 – 8.0V
Operating mode: VW, TC (NI200, SS, TI), TCR, VPC, BYPASS
Temperature range: 200 ℉ – 600 ℉ / 100 ℃ – 315 ℃
Supported resistance: 0.05 – 3.0Ω / TC 0.05 – 1.0Ω
Protection: against low / high resistance, from overheating, from short circuit, from incorrect polarity, from overcharging / overdischarging
Connector type: steel 510, pin gold-plated, spring loaded
Screen / diagonal: yes, 0.96 "
Micro-USB port / charging: yes, charging current 1.75A
Color: see photo below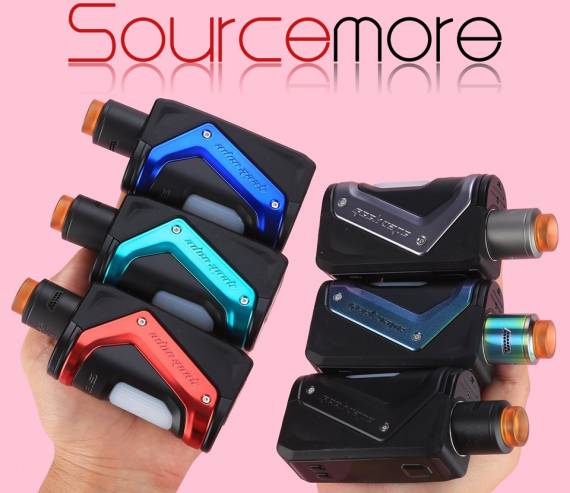 Package
Contents – Aegis Squonk mod
– Allen key
– Tool for the battery cover
– Spare bottle
– USB cable
– user manual
– warranty card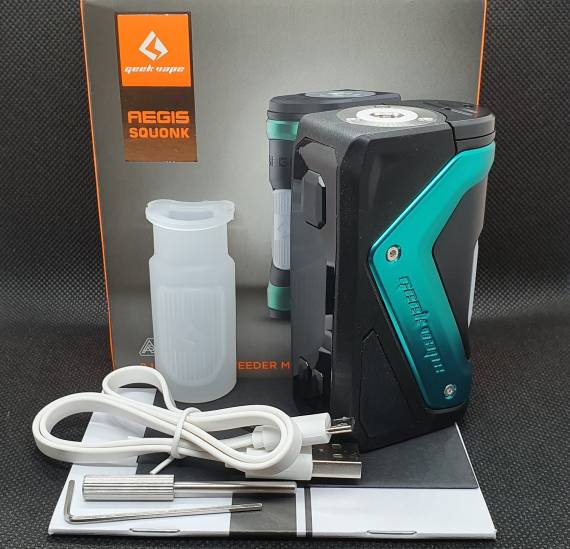 First impressions – nice, convenient, small, and it weighs a little. The design is made in a corporate style, this can not be confused with any other. In principle, the exterior is quite decent – there is no vulgar decor, a traditional aluminum frame – everything is organic and pleasing to the eye.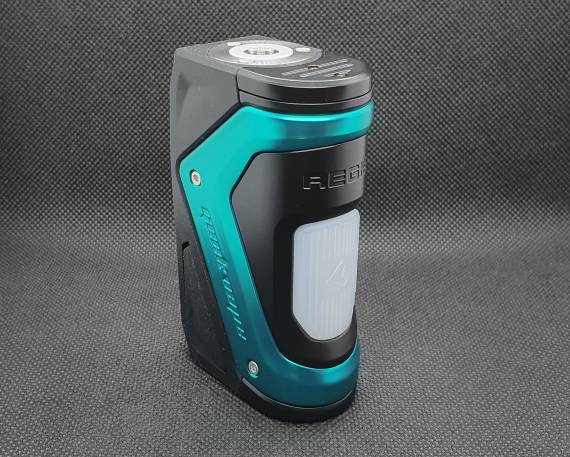 Dimensions I would call average. Thanks to them, including, the mod has quite decent ergonomics – it lies perfectly in the hand, moreover, in a closed grip. Our hero, as usual, is protected on all fronts – IP67 – from moisture, dust and wear. The latter, by the way, is achieved, inter alia, thanks to the silicone case. The entire front part is covered with it (including corners), but the back is not. Therefore, when falling, for example, the latter will be just scratched. However, this same silicone collects a lot of dust, and if you want to erase it, it only rolls down. In general, nothing new.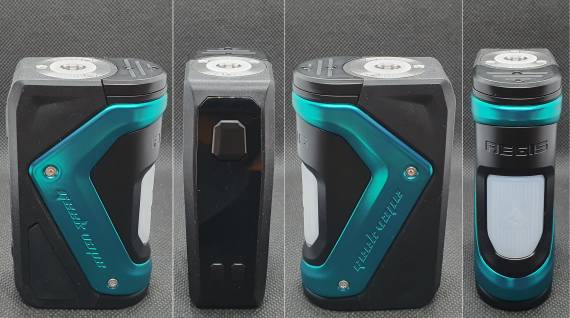 The landing pad is steel, it is slightly raised above the hull. For greater reliability of the connection, it was laid by the oring. This is done because the liquid enters the atomizer not through the pin, but around it. On the last, special cuts are made crosswise. This does not affect the process of delivery of slurry – everything is fine in this regard, except that the connector is always buried in this very slurry. When twisting the atom, this must be taken into account and washed as needed – since the squonker is not afraid of water.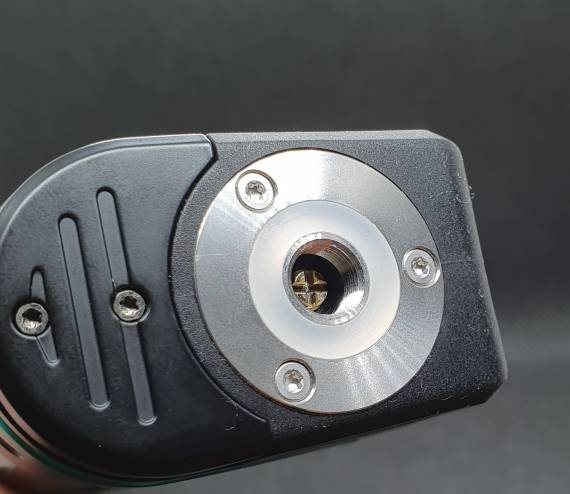 I would also like to say about the landing margin – almost 27mm. This, of course, is gorgeous, but why such a supply to a single-janitor is not particularly clear. Naturally, this is nothing but a consequence of the modeling of the case, therefore, it's not worth minus one for this.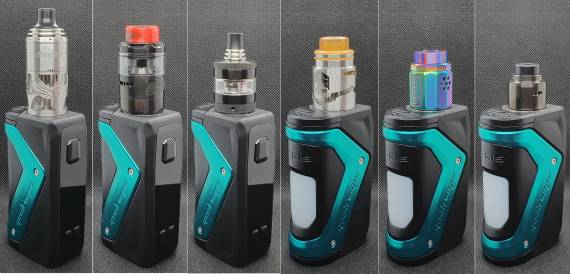 Right next door was one of the most profitable fashion chips – the top refueling cap. It is executed in the form of a slider and made, I must say, excellent. Its course is moderately tight, there are risks for convenience, it is fixed perfectly in any position. The filling hole is not small, it is covered with a slotted plug – the gorilla's nose digests at a time. Along the perimeter, it was laid by another sealing oring – in short, I liked everything here – an excellent solution and execution.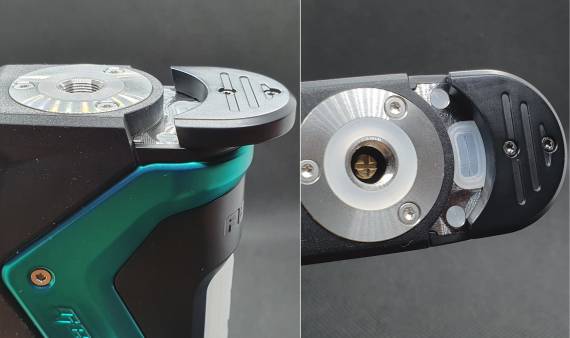 The control panel looks almost standard, but glossy plastic is traditionally very easily soiled. All buttons are plastic. The fire is quite large and, in principle, convenient, but it would be better if they screwed here an option in the form of a trigger, as on the "senior" aegis. Using all this decoration is comfortable, but the click on the fire button is quite sonorous – I don't think anyone will like it. The display is monochrome, the brightness is adjustable, but even in the upper value I would call it medium bright. It'll do for the room, but this can't be written down in any way. The desktop design for the series is standard, familiar.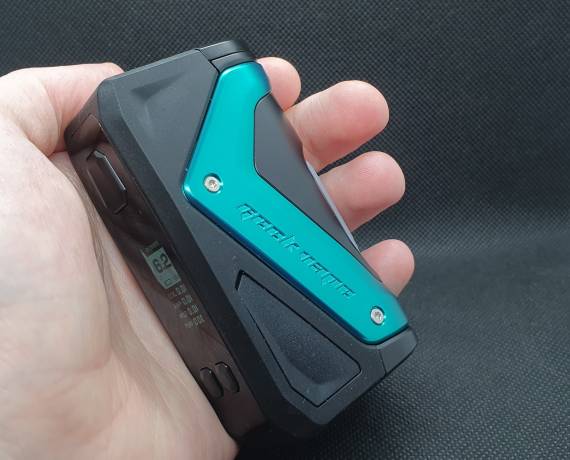 The charging connector is hidden behind a massive silicone plug. It is convenient to pick it out, only it "opens" the connector it is not good enough – you have to twist it. It is gratifying that the charging current is even higher than the declared 1.5A.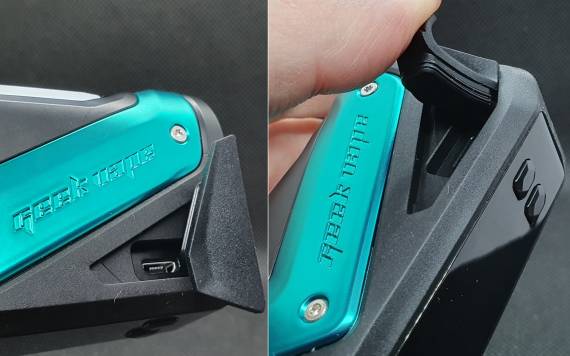 A window for clicking on a bottle of decent size, it is convenient to use. Although its edges are rounded, there are island elements, but this does not interfere at all. A bottle of decent capacity, made of food-grade silicone. I would also like to praise the developers for the shape of the bottle – it is not round, but flattened. In view of what to use it well, sooo nice. It does not creep from side to side when pressed, since it is tightly clamped in the case, plus a medium-hard silicone implies moderate (pleasant) pressing. In short, there is sheer pleasure – five points.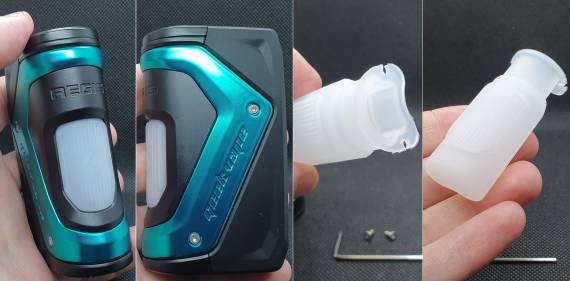 Well, we turn to the most important chip and at the same time to the biggest disappointment for me personally. In addition to the squonk mod, our hero can be a simple one-janitor. For transformation you only need to unscrew the two screws with the complete hexagon. By the way, well done developers that did not begin to paint these very screws – they will definitely get rid of it. And after installing the back panel not squonk, fixing it with the same two screws. Well, what is cool? And if I say that in this case our hero turns into a completely compact and pretty one-janitor? Generally chic, isn't it?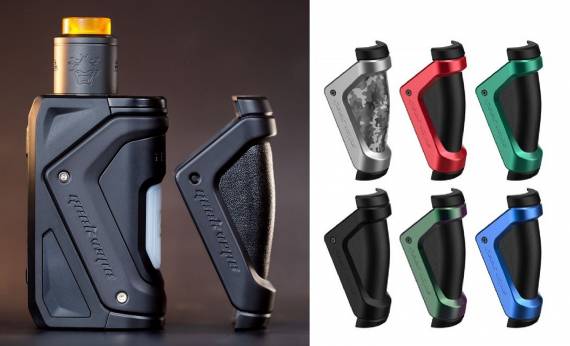 However, the most attentive probably already guessed what the salt was – rightly, this panel will not be included in the kit, moreover, in no version. I asked about this – it costs about 5 bucks on the Internet, and is offered in the same color scheme as the mod itself. Well, couldn't it be possible to raise the price of the mod a little and throw this ill-fated panel into the box, this would significantly increase the sales of the device. In addition, the manufacturer himself boasts of the versatility of the kit – even on the box it says "2 in 1". I understand that some people want exactly a squonk – well, but would they refuse to have such a package? In short, I did not understand this moment at all, therefore I will have to reflect it, both in pluses and minuses.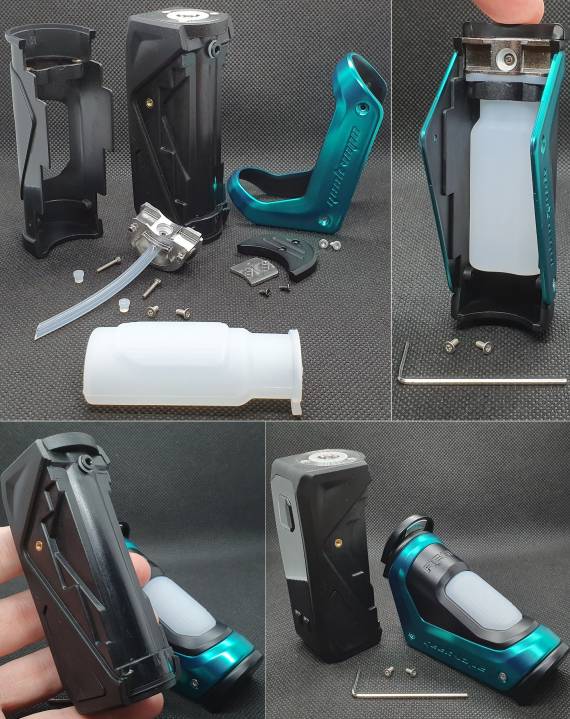 Access to the battery compartment is traditionally from the bottom. There is a screw cap with a folding key. The thread is not long; getting into it is so comfortable. For the convenience of twisting / unscrewing, even a special tool was prepared. I think that there is no particular need for it – you can do without problems with your fingers. And the latter can be used as a frame, however, the diameter doesn't quite have this – 2.8mm.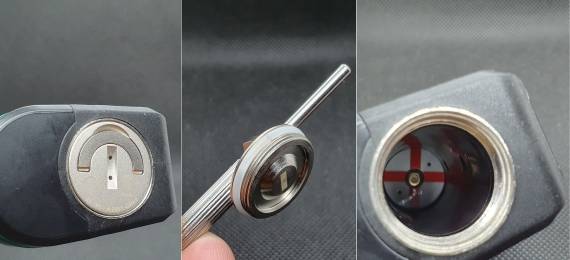 The control chipset is already familiar to me – in work it is a pretty strong middle peasant, if not better. Yes, and in terms of functionality this instance is quite decent – a varivatt, thermal control with TCR, and pre-heating curves are available, as a bonus bypass. In general, I have no complaints about the mod, except that the bypass, as it seems to me, is still under-cooking.



Impressions
Definitely a successful squonker, whose positive qualities translate into a decent Talmud. Separately, I highlight ergonomics, workmanship, top dressing, decent work of the control chipset and of course IP67 protection. Moreover, money for such an interesting little thing will be asked not so much. But I would like to single out its versatility again as a separate point – the offset, however, how does the fact that the kit does not include a rear dummy "bomb" it?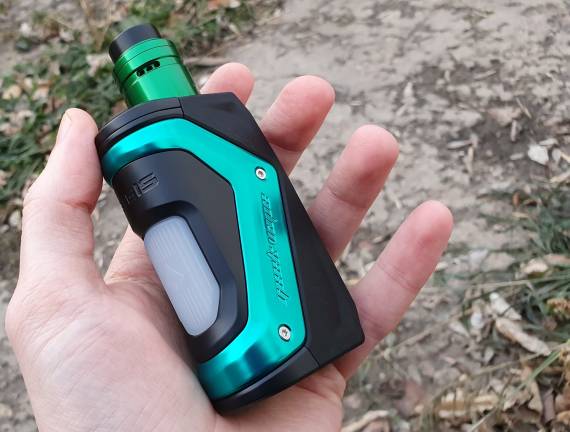 I will definitely recommend it, since in my opinion I have never exhibited so many advantages))) Unless lovers of versatility have to add five more evergreens on top.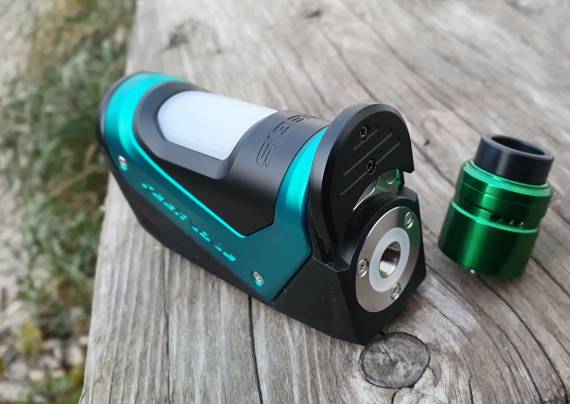 Benefits
Price

IP67 protection

Ergonomics

Design

Light weight

The ability to transform into a regular mod

Workmanship and materials

Top dressing

Convenient bottle and comfortable interaction with it

Secure connector

Landing stock

Fast battery charging

Decent work of the control chipset
disadvantages
Voiced fire button

Marked body and front panel

Troublesome disassembly for cleaning the liquid system

The lack of a "non squok section" in the kit
View the product here: https://www.ave40.com/geekvape-aegis-squonk-tc-kit-100w-with-tengu-rda.html
Vape Wholesale & buy Electronic Cigarettes online in Bulk. Quality Vape Products, Trusted Vape Wholesale Supply by VapeShops Owners.
WHOLESALE INQUIRY: https://www.ave40.com/wholesale-service.html